Amongst the many different aspects of typography, there is one of them that is quite popular yet has nothing to do with words or letters. That's right; we are talking about stylish number fonts. But don't worry, this isn't going to be one of those boring math classes you had in 5th grade. Sometimes numbers could be a bit boring but fortunately for you after reading through this article you'll be able to bring the artsy side of numbers and inspire people with them. Today in this article, we are going to approach the fun side of numbers shifting your perspective and thoughts about them from associating them with boring math equations to beautiful and full with life and fun characters. We are talking about the best number fonts.
Table of Contents
Numbers can be as beautiful as letters in typography, but finding the stylish number fonts for them can be a bit challenging, especially if you are looking for a free one.
So, Where can I find inspiration for Stylish Number?
Displaying numbers on the screen is actually among the most important aspects of typography. In data visualization, creating infographics, pricing tables, or special offers on landing pages, how your numbers look is at first importance. And if you are looking for some inspiration on playing with number typography, then I suggest you do one of the following things.
Go to google.com and search for "Stylish Number Fonts". Click the images tab and there you go. You will have a lot of inspiring ideas to start.
Go to any stock library and search with the keyword "Stylish Number" and they will display a large number of stylish fonts for your inspiration. Try this search result on Shutterstock.
Finally search on websites like Pinterest, Dribbble, and Instagram with keywords like Best Number Fonts, Stylish Number, etc and you will hit a whole repository of inspiration.
Guidelines for picking number fonts
Here are few guidelines you can follow to pick the right number fonts for your project.
Pick the right flavor.
If you are looking for a stylish number fonts, then I am assuming you are in need of a number font that adds dept, style and communicates well to that audience. Having a clear thought on the direction of the visual style you want to take, can help you pick the right font. So, if you are creating a graphic for kids, then you would be at best choosing a font that would appeal to children. Choose a font that children may have already seen like something similar to fonts used by Disney.
Ensure Legibility
Your number fonts should be clear and legible, rather than being unreadable. If your audience is having difficulty reading and have to spend extra time to understand what have written, then they will disregard your design.
Test Each Number
Check each individual numbers and ensure that the numbers don't look alike. How many times have we come across 2 numbers having strong similarities… 1 looks like 7, 5 looks like 6, etc. Ensure those visual differences exist to avoid confusion and wrong visual communication.
These are some of the ways we find inspiration to pick the right stylish number fonts. But in order to help you further, we have also listed the 20 Best Number Fonts for Displaying Stylish Numbers that you can start using in your design right now!
Our Picks of Best Stylish Number Fonts
1. Number 514
Number 514 is an early serif font, that brings that early 90s Halloween atmosphere with its triangular Latin serifs styles, with surprising brightening components.
For some of you, this particular font may comes as a bit overpriced as its cost for getting the full license is $20.
For those of you who are ok with investing into Number 514 will certainly see a benefit, making their whole design look stunning, especially if you are designing a party poster and were looking for something that stands out and has unique decorative elements. Still, it's up to you to decide if you justify investing into it.
2. Superstar M54
Superstar M54 is a really cool font which can be downloaded for free. This font is perfect if you want to give your designs and sports jerseys that superstar style.
This a pretty fun and cool-looking font that deserves to get more attention. Its uses are only bound to what you can create with it.
3. Crash Numbering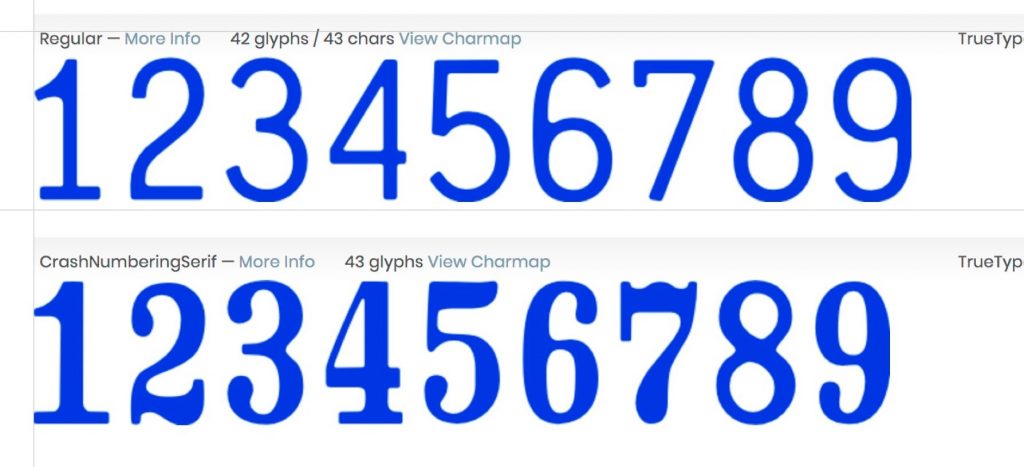 Crash Numbering is a free number font, available for both personal and commercial use. It includes over 40 glyphs: numbers and basic math symbols.
However, it doesn't have any alphabetical characters. Crash Numbering Font comes in two versions: Gothic and Serif styles. That way, you can pick the type of numbers that best matches your design.
Crash Numbering would be a great option if you were struggling to find an awesome and free to use decorative numeral font. You won't regret choosing it because its uses are unlimited and perfect for almost every occasion.
4. Bullet Numbers
Bullet Numbers comes in exceptionally convenient for a wide range of records that don't surpass 100 classes.
For a great number of people, this font has been found as the perfect choice when the time for a bullet point comes.
Unfortunately, it's not free to use as the most ones on this list but if you are looking for a change and shake up your boring bullet points and giving them a bit of a style, this is the right font for your content.
5. 001 Interstellar Log
001 Interstellar Log is yet another amazing number font, which is one of the prominent ones among the upscale numeral font styles.
In a nutshell, this is a sci-fi enlivened number text style that has certain techno impacts on it.
Its design is quite interesting and alien-like, exactly the thing you'd expect from a font with interstellar in its name.
The font looks beautiful and certainly has a unique vibe to it that for sure will leave you speechless.
6. KR I'm This Many! Font

KR I'm This Many! Font is created by Kats Fun Fonts, which has fun figures with hands and faces on each number.
This font is free to download for personal use. It's great for a family and kids, friendly ads, posters, and sites.
Download KR I'm This Many! Font
7. Old Standard TT
If you are looking for a classic and elegant style that brings you that old school feeling… look no further Old Standard TT is the font for you.
Old Standard TT is a specific type of modern style of serif typefaces, popular in the late 19th and early 20th century, but almost completely abandoned later.
However, it has a couple of advantages like:
A good choice to use in something like scientific papers, especially on social and humanitarian sciences.
One of the most beautiful examples of Greek and Cyrillic letter type.
It is a google font that you can download for free!
The name "Old Standard" was chosen to be the opposite of the "Obyknovennaya Novaya" (meaning "New Standard").
"Obyknovennaya Novaya" was widely used in Soviet typography, which represents another, slightly different type of the same Modern style.
Yes, this name doesn't look very original, but it seems to be a good choice for a revival of the most common letter type of the early 20th century.
After all this time, the Old Standard still looks amazing to this date and worth mentioning in any list that focuses on the best fonts and styles for numbers.
8. Crossword Font
Crossword's intended main purpose is creating crossword baffles and puzzles for free without the need to buy any special software programs.
Thanks to fonts like this nowadays, you don't have to purchase any extraordinary programming projects to make a crossword baffle.
All you really need to make a professionally looking crossword baffle is a font like this and any standard word processing or publishing program.
If you have a project that includes a crossword baffle, this is one of the timesaving options for you.
9. Ewert
Ewert has a completely unique style that's solely its own thanks to the ornamental legs on each number resembling a classic furniture.
The characters are big, bold, and decorative and would look great, specifically in tattoo prints, as well as carnival designs.
Ewert is also pretty nice looking at small and large font sizes on desktop and mobile platforms.
10. Sancreek
Sancreek similar to Ewert has a unique style of its own, presenting itself to has sort of a flower style with its curves and tails. The design makes the numbers pure art and a joy for the eye.
Each number is completely filled in and you can best utilize it in all caps. The font is perfect for western designs, posters, parlor titles and other prints.
If you are going for a pure beauty in your numbers design, Sancreek is definitely one of the best looking fonts and perfect for that purpose.
11. KR First Years Dings
This is the second awesome KR number font created by Kat's Fun Fonts, which has candle flames on top of each figure, bringing the child in you to life.
KR First Years Dings is licensed as Freeware, Non-Commercial, which means it is free for personal use only, and in order to use the font commercially, you will need to purchase a license or contact Kat's Fun Fonts.
12. Bungee Shade
Bungee Shade has that classic race countdown vibe in its numbers. If you are going for that adrenaline rushing style, this font will bring back that blood-pumping feel to you.
Bungee Shade is especially great for racing ads thanks to its track-style numerals. The shade gives the characters a boxy appearance and helps them pop in various media.
Also, that lining inside the numbers gives it even more impressive and old school look, making it another contender for the title of the best-looking number font on this list. We definitely recommend you trying it out.
13. Handwritingg Font
Handwritingg Font is a great numeric font that comes with a free download, but only for personal use if you want a commercial license, you'll have to pay the symbolic price of 5$ which is more than worth for what it provides.
The font is eccentric, and it can breathe life into your outline extends altogether. You can utilize this font in fixing disconnected undertakings.
Overall, Handwritingg provides one of the best and cool-looking numbers if you are a fan of its style like us, that is, but if you are not, don't worry because there are plenty of others to choose from as the next one on this list…
14. Kumar One
Designers call Kumar One a "one-of-a-kind" google font with exceptional styling for any racing site or numbers on the front of jerseys.
Its numbers have slim horizontal lines and bold, wide vertical strokes with 45-degree angles at the corners, which bring for the awesome look.
But what makes Kumar so unique is a series of matching Open Source display fonts. They each support the Gujarati and Latin scripts. The two Kumar fonts may be used together, or entirely on their own.
The Kumar design is made entirely out of straight lines; all elements that would usually be drawn with soft curves are faceted, built up out of several shorter straightened-out elements.
Text in either Kumar font shimmers like a jewel making the effect of both fonts quite decorative and beautiful.
15. Press Start 2P
Press Start 2P is one of the coolest fonts in this entire list, especially if you're a fan of the 80s pixel art games like Super Mario.
Each number has that signature pixel style, making this font the perfect choice for gaming sites or creating a unique design for blogs and brands that are going for that old school nostalgic feel.
Of course, this font won't appeal to every audience, unfortunately, but to the ones who enjoy that particular style, this is going to be a big plus in their book.
16. Clement Numbers
Clement Numbers is a beautiful number font coming with numeral characters and basic punctuation marks, and although this specific typeface isn't free, it is quite the cool-looking one and actually worth the exclusive price.
Clement Numbers has a really unique set of numbers that originate from a forgotten 1838 Type Specimen Book issued by the Fonderie Clement, Bruxelles, and now has become one of the coolest and classy number-specific typefaces out there.
Unlike other cookie-cutters fonts out there, this one is worthed the $10 price tag, at least in our humble opinion.
One is sure though your design will be better with having some unique font like this, and it could actually impress a lot of people.
17. Mrs. Sheppards
Mrs. Sheppards is an incredible numeric font with quite the slick style for anybody that has a fixation for numeric textual designs.
Fun fact is that this particular font is actually a part of the Charles Bluemlein Script Collection, mimicking the lettering from the 1930s with bold and strong numbers.
Sometimes with thinner lines, in the beginning, middle or end strokes to kind of mimic real handwriting.
Mrs. Sheppards will appeal greatly to you if you are the kind of artsy person.
18. Digital-7 Font Family
This is yet another free number font that has that iconic digital look to it like the tv show 24. If you were to make a website dedicated to it, this would be the perfect option.
This font is free to download for personal use, but you might have to ask for permission to use commercially.
Nonetheless, Digital-7 Font Family is a great number font that looks cool, especially when used for a countdown!
Download Digital-7 Font Family
19. Pompadour Numerals
Named after the extravagant hairstyle of the 50s with the same name Pompadour Numerals is a set of extra ordinary display of numbers.
The font gives the numbers extravagant style of their own, almost like having a hairstyle in a metaphorical sense.
If you were looking for an effective way to draw the attention towards your numbers, this font certainly would help you achieve that goal. For even better results, make your numbers large in size after all this font was created specifically for display.
Each number fits perfectly inside a square with this font; that is the reason they look great next to each other both horizontally and vertically.
This font is specifically made for number characters as it contains only number glyphs, without any alphabetic characters or punctuation marks.
Important to note here is that you can use this font only for personal projects, as commercial licensing is not available yet. You can get a personal license in exchange for a small donation of your choice.
20. Special Elite
Special Elite is a handwritten-style font that believe it or not actually comes with tabular numbers, something that is rather odd to be a part of such font.
It's perfect to use for nostalgic designs or even listing out something more cryptic, like a date of some past event.
It mimics the Smith-Corona Special Elite Type Number NR6 and Remington Noiseless typewriter models.
It's a unique font that can be utilized in a number of ways like:
Give a specific and unique aesthetic to your design.
Draw the attention of the reader by making your numbers stand out(use your imagination).
What is truly special about the Special Elite font is the mix of a little bit inked up grunge and a little old school analog flavor that gives you a vintage font style for your website and blog designs.
Final Thoughts
We hope you found this article useful and helpful to you because finding the best stylish number fonts is essential when you are creating a design that heavily relies on numbers.
Some of the numbers-only fonts in this article, such as Clement Numbers and Pompadour Numerals that can be a really good solution if you want to highlight your numbers with visibly different looks.
Number fonts are just one of the many typographic solutions to add personality to your design.
Let us know which font you are using the most and why share your opinion in the comment section and stay tuned for more.
If you want to learn more about typography, read our other articles as well
Back to Basics in Typography
10 Tips to Improve Your Typography Skills
---
UNLIMITED DOWNLOADS: 1,500,000+ Fonts & Design Assets
All the Fonts you need and many other design elements, are available for a monthly subscription by subscribing to Envato Elements. The subscription costs $16.50 per month and gives you unlimited access to a massive and growing library of 1,500,000+ items that can be downloaded as often as you need (stock photos too)!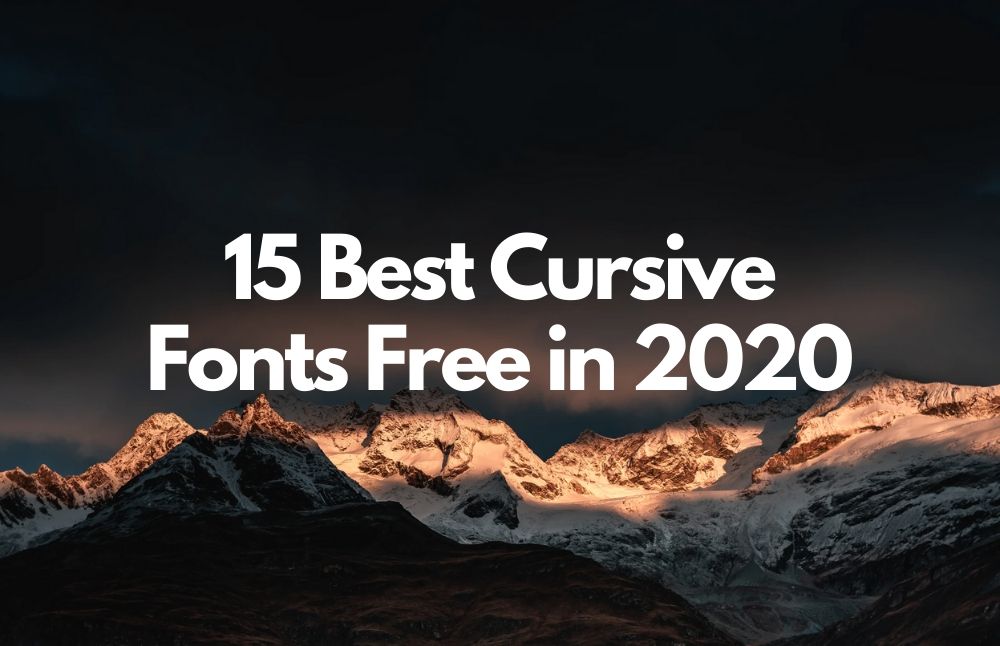 ---