We know the importance for designers to stay updated with relevant news and trends. It not only keeps designers well informed but also helps them to find inspiration, improve workflow, and deliver better results to their clients.
In this monthly series, we aim to round up some of the best things in the design world that we found over the course of the previous month. We aim to make this your best go-to destination for all the great stories, news, tools, resources, and everything that can make you more creative and productive.
Here's what you may find interesting for designers this month.
How to Switch Logo in Dark Mode
A short tutorial on how to switch the color of the logo in light/dark mode.
---
6 (more) tips to quickly improve your UIs
More small and easy to put into practice tips to improve your designs.
---
From no code to know code
Webflow's director of design, David Hoang, shares about his analog upbringing and how early no code tools like Flash and Dreamweaver taught him to code.
---
Pure CSS Custom Styled Radio Buttons
Using a combination of the following properties, we can create custom, cross-browser, theme-able, scalable radio buttons in pure CSS.
---
How I Created $2,000 in Monthly Recurring Revenue in 30 Days
Focus on solving a pain for one person
---
61 UI / UX Resources for Web Designers
An awesome collection of UI / UX Resources for Web Designers
---
30 Great Websites with Parallax Scrolling
A collection of inspiring parallax scrolling website.
---
Design Better Buttons
The do's and don'ts of button design in UI development
---
A freelancer's guide to crafting effective project proposals
Learn how to craft an effective project proposal for your clients, plus, the seven most common mistakes to avoid at all costs!
---
25 Creative Logo Designs for Inspiration
Take a look at some of the most creative designs on the market for logo inspiration
---
The Guide To Design
A free, self-guided class to help you take your first steps into digital product design.
---
Art of Contrast: 40+ Expressive Illustrations by Malika Favre
Take a deep dive into illustration art by Malika Favre, a famous French artist based in London.
---
Apple, Big Sur, and the rise of Neumorphism
Like it or not, the user interfaces of the near future are going to be much lusher, and often cringe-inducing.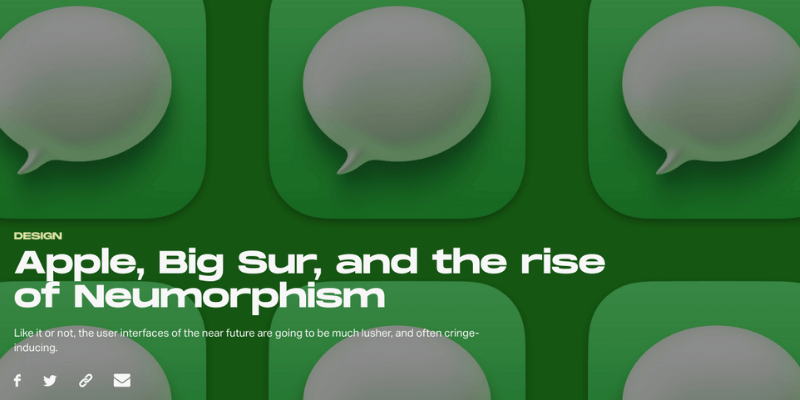 ---
How to design a sleek dashboard UI
A step by step guide on creating a clean, consistent UI of a dashboard.
---
$0 Marketing Budget? Here Are 10 Creative Ways To Land Clients
If you have a small marketing budget to market your freelance business, then you should check out these free marketing ideas to get going.
---
Serious UX mistakes that might be sabotaging your sales
Spot and fix them with this guide.
---
10 interaction design rules you must never break
UI Design best practices.
---
Neon Mode: Building a new Dark UI
A short tutorial on how to do it.
---
ColorSpace
Another generator to find perfect color palette.
---
A free service for web designers and developers providing dynamic placeholder images on the fly
---
Pitchdeck Presentation Studio
Create and present slide decks with animations, videos and links from your Figma designs
---
BigHead.io
Randomly Generated Characters for Your Apps & Games
---
Expert Republic
Expert Republic is a platform that enables professionals to connect with their customers through our mobile app, and customers pay seamlessly through the app.
---
Typography Fundamentals – Feel confident with type!
Udemy Course: Learn how to use type properly and effectively. Avoid common mistakes. Obtain professional results in graphic design
---
Typography for Designers & Developers – Don't suck at design
Udemy Course:Shift your boring designs to Dribbble level by learning Font Pairing, Web Typography, App Typography & Vertical Rhythm
---
Some interesting articles, you may like.
Design Roundup June 2020
Best UI Interaction's of the month – May 2020
8 Certifications for Web Designers to Level Up their Resumes and Stay Competent
Mega list of Remote Job Websites & Freelance Websites
6 Excellent Ideas to Make Passive Income for Designers
Startup Enigma – Adobe XD theme for Startup and Digital Agency.