Almost all freelancers take a look at Hello bonsai reviews if they want to simplify their freelancing journey. Working is easier when compared to doing all the other work as a freelancer.
Managing clients to creating invoices is a whole lot of work that freelancers need to do single-handedly. But if they have access to Hello Bonsai, all these responsibilities can be taken off their shoulders. If not all, the platform will support you in bonsai invoicing, which is a tricky business for all freelancers.
You can now put your journey on Autopilot with this fantastic app. This SaaS product has become a life-saver to most freelancers. But you shouldn't jump into decisions without giving a shot at a detailed review.
Here's our in-depth review for you. We will review everything from good, bad, and alright features of this app. This guide includes ideas and thoughts of other established freelancers who have used this app. You can decide whether to use Hello Bonsai or not after reading our guide on Hello Bonsai review until the end.
Let's get started!
Should You Try Hello Bonsai as A freelancer?
If you don't have enough time to read Hello bonsai reviews or if you don't like reading a lot, then we'll help you with short answers here.
A freelancer with a reasonable amount of projects might love bonsai all in one. If the freelancer doesn't have complicated projects and hefty budgets, then Hello Bonsai can be your call.
If you own an agency with too many projects and planning to grow big, then Hello Bonsai might not be suitable. But there's a free trial option that you can try even if you are an agency.
If you are interested in a detailed review, continue reading.
What is Hello Bonsai?
What is Bonsai?
Bonsai automates and organizes your business with Proposals, Contracts, Invoices and much more. It's trusted by 250,000+ freelancers.
Proposals – Win more business and look professional with Bonsai Proposals
Contracts – Protect yourself and your work with Bonsai Contracts. We've helped freelancers create over 152,000 contracts worth $471,057,400!
Invoices – Get paid in full and on time with Bonsai Invoices!
Their website says, "Put your freelancing on autopilot. All-in-one freelancing solution for the world's best creative freelancers." The tool offers services such as contracts, proposals, time tracking, invoices and payments, reporting and expenses, and liberty.
Also, Founder, Matt Browns says in an interview, "Bonsai handles the things that freelancers don't like doing or don't know how to do, so they can focus on the work they love and still get paid." So, they have introduced this to make your freelancing journey productive and less complicated.
This suite of tools makes your freelancing work effective and efficient. Just like most Hello bonsai reviews say, it is not only budget-friendly but also user-friendly. Many web designers and other freelancers who use the bonsai app consider this simple and easy to handle. The user-interface is also super clean, aesthetic, and beautiful.
What are Hello Bonsai's Top Features?
The prominent feature of Hello Bonsai is contracts and payments, but there are many more features that you'll love. Let's review those feature in detail:
1. Hello Bonsai Time Tracking
Many freelancers struggle with time management, mainly if they manage too many clients and projects at once.
Of course, there are many time-tracking apps that you can find on the internet, but bonsai time tracking deals with timely invoicing and many other services –it's a full-package.
With bonsai freelancing, you can set time for each project so you will be able to handle several projects at a time. Instead of doing everything all by yourself, you can put it on autopilot.
Using Bonsai is basically a win-win scenario because you get to enjoy time tracking and invoicing tools. You can also enter time manually, so you are not obliged to follow the auto-mode.
Bonsai helps you in sending quick invoices for the unpaid hours and that too within a short time. But this is not the most reliable time-tracking tool available. There are several options, but this is a good option if you like keeping all your tasks in one place.
2. Hello Bonsai Project Management
This feature ruins the Hello Bonsai review slightly because you can't find an exact project management feature you are looking for. It is more like a task management tool that helps to manage your project timing and billing.
The feature is pretty cool because you can add review notes for each project if you need it. If you like organized, simple, and filterable management, then Hello Bonsai is excellent for you.
However, this feature is much needed for keeping all their tasks in one place. Of course, though this is not the best project management app, you cannot get a better app for billing, so this can be considered the one place solution for every task.
3. Hello Bonsai Contracts
This is an exciting feature of this platform because you can keep all the details of the contracts in one platform. Features including, social media handles, website, client information, and contact details are gathered at one place for easy access.
By accessing the dashboard of contract management, you can select the desired currency for payment mode. Once you have selected the currency, you can set the rate, hours to get paid, and everything that you consider the best. So you get the liberty to select what you want to do when you utilize Bonsai contracts.
Apart from that, you can also find different templates for different contracts. For example, if you are a graphic designer, you might need a different contract than a freelance writer. Thus, according to the needs of the freelancer, the template can be selected.
4. Hello Bonsai Proposal
Creating a proposal is a challenge for freelancers if they are new to the freelance niche. Such a platform, like Hello Bonsai, can rescue such freelancers.
But even if you are not new to freelancing, you might still find creating a proposal as an annoyance. So you can seek help from Hello Bonsai Proposal feature. It will help you to create a proposal in a few seconds.
With their myriad of templates, you can select a suitable contract for your job and follow the instructions' rest. You can add your client's name, necessary attachments, and every other essential detail.
Once you have created the proposal, you can send it to the client directly via email or send it in a PDF form. You have the freedom to select the option that best suits your business/job.
5. Hello Bonsai Expense Tracking
This is one of the best features of the platform. You can track your expense with the help of Bonsai expense tracking feature. This helps your bookkeeping requirements, as well.
You can create a section for expense tracking from any device – phone or PC. The feature also allows importing bank transactions to your Bonsai platform so that there's transparency in expense tracking.
You can include the billable expenses of a project to its invoice, which means this feature promotes payment transparency. You can add all the expenses, including taxation, project execution, miscellaneous expenses, etc.
Hello Bonsai Pricing
But one of the most asked questions is how much does hello bonsai cost. Well, before we get into it, we'd like to mention that you have the free trial option to check whether the platform is worth your payment.
The free limited plan is ideal for freelancers who are new to the market. Although the plan is limited, it has amazing features:
Check existing projects.
Check the existing documents –invoices and proposals.
Track the time and expense of current projects.
Lead management and client records.
Contact form and profile management.
Task management.
The Plus Plan is super effective for freelancers who make a decent amount because it only costs $16 per month if billed annually.
Includes all features of the free limited plan.
Option to do customized branding.
Access to limitless projects annually.
Reporting tools.
Task, proposal, and contract templates.
If these features appeal to you, it is vigilant to consider the 14-day trial period before subscription.
The Premium Plan is a bit advanced, and it costs $24 per month if billed annually. If you can afford this amount, it is going to pay off in the long run.
Includes all features of the Plus Plan.
Subcontracting option (client-mode)
White-label branding.
Multiple user facility.
Excellent product support.
High-end collaboration tools.
This plan is also available for trial so that you can consider the 14-day free trial option.
Nevertheless, let's discuss the pros and cons of Hello Bonsai for further clarification.
Hello Bonsai Pros
Create contracts seamlessly.
Keep all your information in one platform.
Track related documents of the projects.
Get paid from clients through the platform.
Enjoy safe and secure payments.
Get an overall view of the dashboard.
Track the time spent on the projects super easily.
Easy to understand and maneuver.
User-friendly interface.
A wide range of templates, including invoices, contracts, agreements, etc.
A 14-day free trial option before the paid subscriptions.
Hello Bonsai Cons
The free plan has limited features.
Do not have multiple languages.
Inability to perform complex accounting.
Time tracking doesn't offer evidence for the work performed.
What are the Alternatives for Hello Bonsai?
There are several tools to manage your freelancing tasks, but there are only a few platforms that you can actually rely on. Here are some of such platforms that are also considered as competitors of Hello Bonsai and will help you analyze further with our Hello Bonsai review.
When talking about hello bonsai vs. and.co, this is operated by the infamous platform Fiverr. As it is created to benefit freelancers, it is considerably greater than other choices in the market. Also, AND.CO is fully focused on adding more improved features to the platform.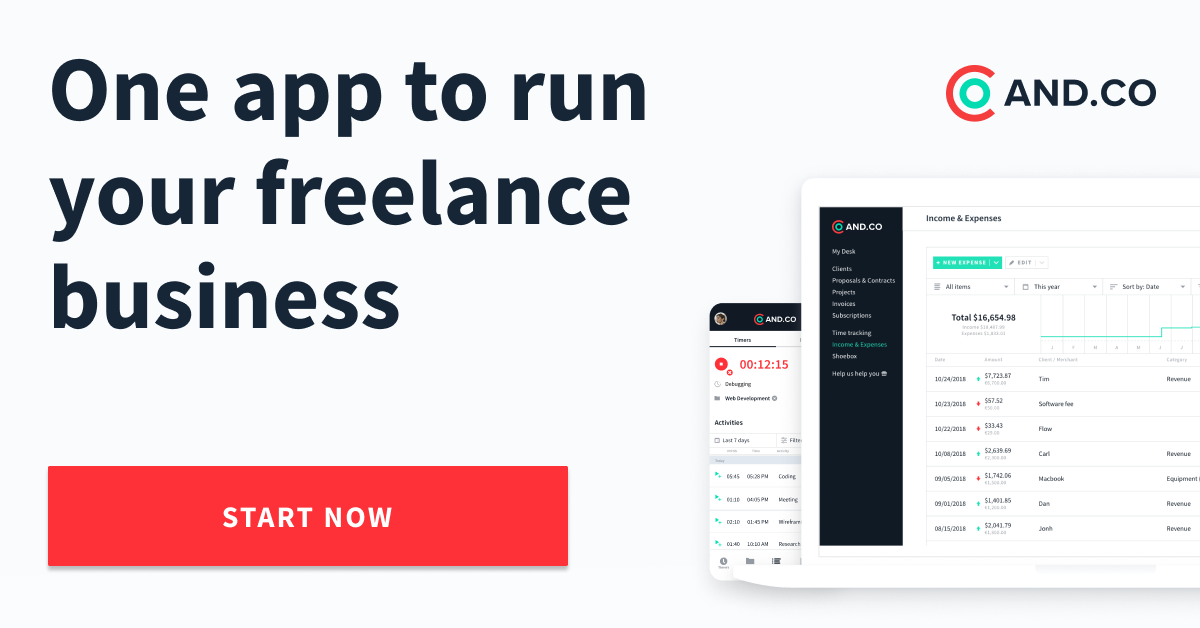 And.Co Pros
Ability to request monthly reports for all incomes and expenditure.
Send reminders for invoices.
Friendly follow-up messages for the clients.
Receipting is professional and straightforward.
And.Co Cons
A project manager is required: example, Trello.
Minor failures and errors with Android application.
Switching between the formats of invoicing can be tricky.
Doesn't have an automatic email reminder.
Next, we'll consider hello bonsai vs. dubsado. Most freelancers and small business owners consider them because of CRM tools. However, Dubsado works amazingly for freelancers who run a team or collaborate with other freelancers.
Dubsado Pros
Advanced automation tools.
A wide array of contract templates and proposals.
More advanced reporting tools.
Lead generation feature.
Multiple languages, including French, Arabic, Hebrew, Spanish, Hindi, Russia, etc.
Dubsado Cons
New users find it complicated because of the sophisticated interface.
No advanced marketing tools.
Lastly, we'll focus on hello bonsai vs. plutio. This is a dedicated platform for freelancers. But Plutio is perfect for solo professionals, whether they are freelancers or not. You can enjoy similar features of Hello Bonsai from this platform as well. However, the pricing method is different from Hello Bonsai. This has three pricing methods, such as Solo, Studio, and Team.
Plutio Pros
A great tool to keep track.
Letting clients edit and review work.
Availability of a mobile app.
Clients can sign proposals digitally.
Plutio Cons
Does not have an excellent customer service. 
Not getting recurring invoices. 
To learn more about Plutio, click here
Final Words
All in all, hello bonsai integrations and its sheer amount of excellent features make it one of the most loved tools by freelancers. The sole purpose of this platform is to uplift every freelancer's journey to a simpler level.
Creating a contract, portfolio, managing leads, creating invoices, and getting paid all at once with just a few clicks.
On top of all, time management, which is a common problem of freelancers, can also be handled with Hello Bonsai time tracker.
To add to this, they also share informative blogs that every freelancer could benefit from.
Finally, thank you for spending your valuable time on this Hello bonsai reviews. We hope you've got all the details to make an informed decision to simplify your freelancing career.
More articles that you may find helpful
Mega list of Remote Job Websites & Freelance Websites
20 Best Stylish Number Fonts for Displaying Numbers
15 Best Futuristic Fonts for Designers
15 Best Cursive Fonts for Designers Free in 2020
10 Tips to Improve Your Typography Skills
Keep in mind that we may receive commissions when you click some of our links and make purchases. However, this does not impact our reviews and comparisons. We try our best to keep things fair and balanced, in order to help you make the best choice for you.